Often big plans evolve over time. For me, an overland trip around the world has always been a silent rumble in my back head. I guess it started when I was studying back in the 80'ties. My then-girlfriend and I took a sabbatical year and after we had been working quite a bit to save money for the trip, we flew from Europe out to the West Coast of the US. The plan was to buy an old car and drive across the country. As no internet at that time it was a tiring search to find the right car, scrutinizing "Wheels on Deals" and other used cars magazines and we had our fair share of encounters with car salesmen in the greater area of L.A. As money was a big subject we ended up buying an old VW Golf Mk 1 with a stick shift for USD 1,200. Our 4 months and 11,000 miles long trip, zigzagging through a lot of states to the East Coast and then continuing to Minnesota was an endeavor and my first ever road trip outside Europe. As my girlfriend didn't have a driver's license, I had to do all the driving myself. I will not come into details about the trip which for a fair share of our time took place in the confined space of the VW Golf. However, when we finally came back my girlfriend and I decided to split up. And in hindsight, the trip was probably more my project than hers. Nothing as a long road trip to check out a relationship, I assume.
Since my virgin tour I have had a lot of road trips, several in the 90'es with my at that time new girlfriend (which is today my wife), and after we got kids, a lot of trips in Europe as well as in the US in rented campervans and RVs. So, this road trip thing is in my veins, you could say.
But how did I get inspired to the greatest road trip of them all? Since my first road trip internet has been invented and is here to stay, so I have done a lot of research on the net. I quickly found out that there is a big overland community out there. Tons of forums, Facebook groups, Instagram and YouTube accounts with stories, pictures, videos, and advice about everything from route to equipment. There is even an overlander app. A bit overwhelming in fact. By coincidence, I stumbled over a book called "Overlanders' Handbook" (www.overlanders-handbook.com ). It is written by Chris Scott and is a cornucopia of info about how to plan and prepare a world trip, choosing a vehicle, modifying, and converting it, life on the road, and route outlines, among many things. A little less than 800 pages of close written overland stuff. For me, this book was like reading a book by Jules Verne when I was a kid, a real eyeopener with an instant urge to create your own adventure. When I read it the second time it more felt like a handbook and during the third reading I started to take notes. Highly recommended for an around the world trip. So big Kudos to Chriss Scott for making this awesome book.
Besides reading the handbook, I started to follow some great overlanders on social media. There are so many and their common denominator is that they love it. Very inspiring to follow their ups and downs on the road, their enthusiasm about exploring new places, their knowledge, and their wit. Sometimes it is better to name nobody so none forgotten. However, I will still mention a few that have been truly inspirational and in advance my apologies for the ones I don't mention. One of the first I found was Dirt Sunrise with Tim and Kelsy touring South America in their Landcruiser 80 called Goose (they later upgraded to another 80, this time called Dusty). They make the most inspirational You Tube travel videos, last time I looked they are on their way to have produced almost 200 videos about their traveling and overlanding life. The coolest young couple who knows how to document in a highly exhilarating way, while living out their dreams. So big kudos to Kelsy and Tim (www.dirtsunrise.com), sincerely hope to see you on the road someday.
Some other cool guys are Live Work Wander with Jessica and Jorge, on the road since 2013 where they left their Tempur madras fitted luxury house to live and work from their van. They both do some outstanding blog write-ups and videos but recently left the whole SoMe ecosystem as they found that the SoMe algorithms were reducing stories and sharing to a monochromatic version of the life. They are probably right. Their blog posts, videos, and pictures can be found on their website www.liveworkwander.com. Big kudos to Jess and Jorge, you are awesome as inspirators.
Another family I have been following for a while is Hourless Life (www.hourlesslife.com) with Eric and Brittany and their son Caspian who was born during their travels, hence he is a born overlander. A living proof that you can overland and have children at the same time. They are touring Mexico at the moment and Brittany just published an e-book with the enchanting title "What We Wish We´d Known Before Overlanding Full Time". How cool is that! Big Kudos to Brittany and her family for writing such a useful book.
Some other cool guys are Mathilde and Nick with Next Meridian Expedition (www.nextmeridianexpedition.live), a young French couple in their Landrover Defender. They have not started their trip around the world yet but will this spring 2022. They might be on the same route as me, and we have exchanged messages already. I have been following their preparations on SoMe, always good to see what other people in the same situation have been doing and they are, by the way, much better to update than me. I will try to catch up with them later. So big kudos to you guys and safe travels. You will have the trip of your lifetime.
I could go on and on. But before finishing I would last but not least mention Gunter Holtorf, a German who with his Mercedes G-Wagen (named Otto) went on a world tour for 26 years! He, often accompanied by his wife, traveled app. 900,000 km across the world, visiting a total of 215 countries. He even managed to cross North Korea in his car, as the first foreigner ever. His permission was obtained after lengthy diplomatic efforts from Germany as well as the Mercedes factory. Gunter was off-line while traveling and for many years he did not even have a mobile phone with him. A lot of articles have been written about him and Otto, among others by BBC (www.bbc.co.uk/news/special/2014/newsspec_8703/index.html). Otto is now resting at the Mercedes Museum in Stuttgart and is a star attraction. Kudos to Gunter and Otto for the inspiration to explore the world.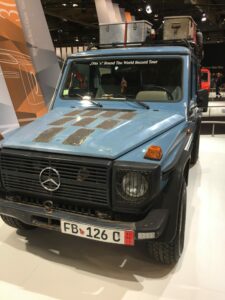 There are so many out there, brave people who not only talk about getting away from the Rat Race but dare to take the full step. I am sure they return as better humans, in one way or another.
I hope I will inspire someone as well.